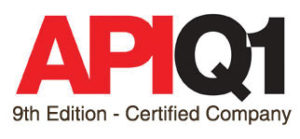 AIT Machine's Quality, Health, Safety, & Environmental (QHSE) Department is tasked with developing and refining methods for manufacturing product to specification in the safest, most efficient manner without sacrificing integrity of the product or process. 
Our Quality Policy simply states:
Quality is integral to everything we do. Quality is everyone's responsibility. AIT Machine will continuously improve its customer service to better satisfy the needs of its customers and will deliver to them, on time and every time, defect-free products and services conforming to customer requirements.
This is achieved through continual improvement and emphasis of prevention over detection.  We would rather our employees understand "why" before they learn "how" or "what". 
Our Quality Management System (QMS) was derived from API Q1 9th  and ISO 9001:2015 specifications, and supplemented with the best quality processes practiced throughout industry.  We say what we do, and do what we say.
AIT Machine strives to establish long-term relationships with our customers, employees, and suppliers.  We are fair and honest in all our dealings.  We strive for stability by carefully planning for our areas of expertise.  We maintain a high level of ethics, integrity, and excellence in all phases of our business. 
AIT Machine recognizes the value of its employees to the success of the company.  We challenge and encourage each employee to be proactive in improving both individual and company performance.  While our goals and objectives are well defined, we offer our employees incentives for meeting and exceeding those goals. 
AIT Machine fosters team spirit and open communication between individuals, departments, and most importantly, our customers.
The cost of quality NEVER exceeds the cost of failure!!