DOOSAN MYNX 7500 
-CNC Mill
-60"x30" travel
-4th Axis
HAAS VF-9/50 (qty 2)
-CNC Mill
-84"x40" travel
-4th Axis
MAZAK QT 350 
-CNC Lathe
-12" chuck, 4" thru hole
-18" max turning diameter
-60" max turning length
DOOSAN PUMA 800 LB
-CNC Lathe
-32" chuck, 14.7" thru hole
-36" max turning diameter
-120" max turning length
HAAS ST-30 
-CNC Lathe
-10" chuck, 3" thru hole
-21" max turning diameter
-26" max turning length
HAAS TL-1
CNC Lathe
-10" chuck, 2.5" thru hole
-16" max turning diameter
-29" max turning length
ACRA MANUAL LATHE
-36"x 80"
KINGSTON MANUAL MILL
-10×50 table
COSEN SAW C-420NC
-16.5" auto saw
COSEN SAW MH-1016JA 
-10" round stock
-9" square stock
DOOSAN PUMA 3100 LY
-CNC Lathe w/t live tooling and Y Axis
-12" chuck, 4" thru hole
-18" max turning diameter
-60" max turning length
MAZAK M5 (qty 2)
-CNC Lathe
-20" chuck, 7.20" thru hole
-22" max turning diameter
-80" max turning length
KIA SKT 300
-CNC Lathe
-12" chuck, 3 ½" thru hole
-21" max turning diameter
-36" max turning length
DOOSAN PUMA 480 XLD 
-CNC Lathe
-24" chuck, 10'8" thru hole
-25.6" max turning diameter
-120" max turning length
MITSUBISHI WATERJET
-90K PSI
-6' x 12' x 6"
-Capable of loading 7' x 13' sheets
HRT 210 4-AXIS ROTARY TABLE
-8.3" diameter
-2" thru bore, 6" center height
HRT 310 4-AXIS ROTARY TABLE
-12.2" diameter
-3.25" thru bore, 9" center height
TR210 5-AXIS ROTARY TABLE
-8.3" diameter
-200lb max on platter
-23.5" max part swing
DOOSAN DBC 110S
-CNC Horizontal Mill
-78.74"x59.05"
-Z 47.24", W 21.6"
DOOSAN MYNX 6500 
-CNC Mill
-50"x 26" travel
HAAS VF-3YT (qty 2)
-CNC Mill
-40" x 26" travel
HAAS TM-3P 
-CNC Mill
-40"x 20" travel
PUMA 300 LC 
-CNC Lathe
-15" chuck, 4.1" thru hole
-21" max turning diameter
-50.4" max turning length
Samsung SL 45 CNC Lathe
-24″ Chuck, 6.5″ thru hole
-34″ max turning diameter
-89″ max turning length
ROMER ABSOLUTE ARM
-Portable measuring arm
-QC / Reverse Engineering
-Faster inspections
-Elimination of costly and inflexible dedicated fixtures
-Minimized production wait times
-Scrap and rework reductions
-Elimination of manual data entry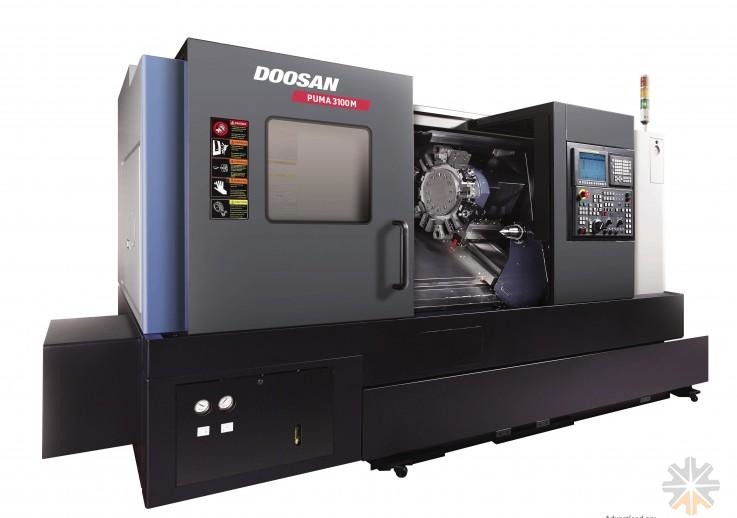 PUMA 3100YL
The PUMA 3100Y series turning centers are designed for heavy and interrupted cutting, long-term high accuracy, and superior surface finishes. High speed turret indexing and fast rapid traverse rates minimize non-cutting time. Mill-drill capability and Y-axis with a programmable tail stock greatly reduce the need for secondary operations, eliminating additional set-up and handling costs.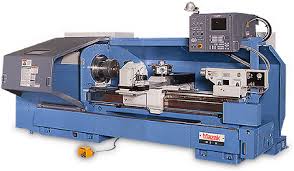 Mazak - M5 CNC Lathe
With 2000mm between centres 500mm chuck 120mm spindle bore, 8 station front turret, 6 station rear turret 30HP motor, Fanuc 6T controller. Chip conveyor Machine in good working condition Control:FANUC 6T Between centres:2000mm Max.swing:610mm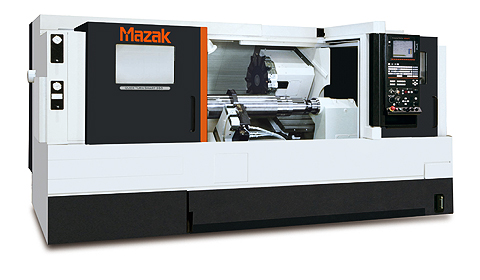 Mazak - QT350
High Grade CNC Turning Center 3 layers solid structure bed, and the large saddle with no turret overhang make SKT25/300 as the perfect idealistic machine for the heavy duty cutting. High torque and the wide power range spindle drive system (2 Steps Geared Head) with all axes box way complete perfect design.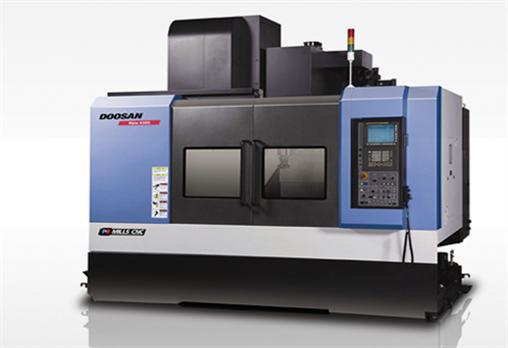 MYNX 7500
Doosan's Mynx-series of vertical machining centres are designed for heavy duty machining applications. The box-guideway Mynx 7500 (40) has a 12,000rpm spindle (40 taper), 30 tool magazine and 1,600mm x 750mm table.nnMachine specifications nControl - Doosan Fanuc nSlideways - Box nX axis mm - 1,525 nY axis mm - 762 nZ axis mm - 625 nTable size mm - 1,600 x 750 nSpindle rpm - 12,000 nSpindle kW - 26 nToolchanger - 30 nTooling - BT40 BIG Plus type
HAAS VF-9 Mill
Mono block design base KMT PRO60 90,000 psi Intensifier Pump Mitsubishi M730 CNC controller w/3-Axis joystick and full keyboard Features Garnet Removal System standard feature Metamation Software Included with True-Shape Nesting and CAD/CAM Submerged Cutting system built into tank design Accuracy of Motion .001 per 3 Positioning Speed .787/min 670lb Pressurized Abrasive Hopper Adjustable Slat Table located by slots, and height adjusted by indicated flat bar Taper compensating head using Taper Control System (TCS) Z Axis touch probe to set Z Height Collision Detection System Laser pointer for Edge Pick-up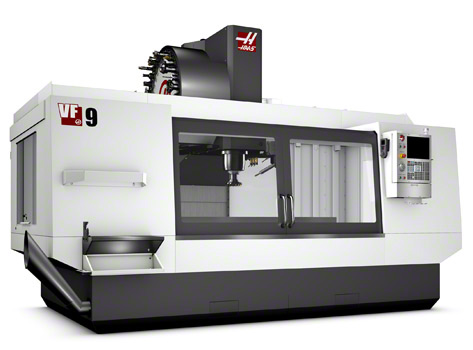 HAAS VF-9 Mill
Vertical Machining Center; 84" x 40" x 30" (2134 x 1016 x 762 mm), 50-taper geared-head, 30-hp (22.4 kW) vector drive, 7500 rpm, 30+1 side-mount tool changer, 600 ipm (15.2 m/min) rapids, automatic chip auger system, programmable coolant nozzle, color remote jog handle, 1 MB program memory, 15" color LCD monitor, USB port, memory lock keyswitch, rigid tapping and 95-gallon (360 liter) flood coolant system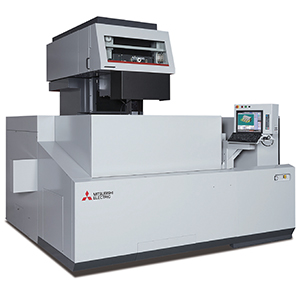 Mitsubishi MV 4800 Wire EDM
Machine travels: X, Y, Z in 31.5" x 23.6" x 20.1" (800 x 600 x 510 0

Houma Facility
5000 square foot warehouse -stock programs - material storage - climate and weather protection